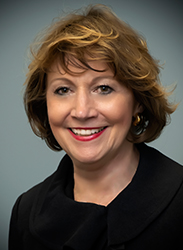 An occasional blogpost from Lander Medlin, APPA's Executive Vice President
---
Preparing NOW for the Student of 2024
May 18, 2020 — Higher Education institutions, K-12, and Preparatory Schools are indeed staring down the barrel of a fall reopening—amidst the continued uncertainty of testing and tracing capabilities, and the relentless nature of this virus' transmission capability. Yet, institutions are slowly starting to weigh in. It is one unimaginable nightmare after the next, and the risks, the liabilities for getting this wrong, are enormous. The backdrop is a towering death toll.
Globally, we recorded 4.4M coronavirus cases and surpassed 300,000 deaths. Yet the true number could be far higher. This past Friday the U.S. recorded slightly over 1.4M cases and more than 85,000 deaths alone. Some states are creeping out of crippling lockdowns and others are struggling to get a handle on their outbreaks. With fears of a second wave comes the warning, "It's not over until it's over. The virus is in control." We are nowhere near the end of this pandemic. We definitely have to rethink what normal means. Social/physical distancing still remains our most effective tool for deterrence. We must remain vigilant. We cannot become complacent.
The impact on the economy continues to widen and deepen. America's flood of layoffs continued, with almost 3M jobless claims filed this past week, bringing the two-month tally to 36.5M. The hunger crisis worsens. Food prices soared higher than at any time in the past 50 years. Food banks face unprecedented demands and approaching capacity. Now we have learned that children are at risk of contracting Multi-Symptom Inflammatory Syndrome.
There is NO business as usual. Higher Education is facing a reckoning. With so many unknowns, what do we know? This past week The Chronicle of Higher Education cited 70% of higher education institutions are moving to reopen this fall. Others, such as the California State University System (23 campuses) and Harvard Medical School announced they will remain fully online through the fall. A student survey reflected that 65% desire a face-to-face offering, with 31% preferring only virtual. ACE's (the American Council on Education) recent survey of college & university presidents found that presidents' #1 concern is "fall enrollment" and #2 is "financial viability" … and they weighed in heavily on the rising concern of "student mental health." Nearly 350 colleges & universities have been identified at risk of closure, and fewer high school students have applied for financial aid.
To help us address these concerns, we were extremely pleased to have gathered another exceptional panel for our 9th Town Hall, each speaking to the startling degree of uncertainty in this changed world of enrollment, the need to put students first, the necessity for sustained institutional collaboration, and a firm focus on why campus matters. As we will continue to see, the road to reopening takes many planning paths.
Panelists:
Jon Boeckenstedt, Oregon State University
Michael Haggans, Georgia Institute of Technology
Keith Woodward, Quinnipiac University
Whether your institution chooses to: close, stay online, slow transition, hybrid approach, full reopen … there's no "one-size-fits-all" solution. You need to prepare now for how Facilities can and will respond. Do we even know what the questions are? How can you provide collaborative support now and through the summer for a "successful" fall reopening … in whatever form that takes?
Some highlights from the Town Hall follow:
Enrollment management is about student and parent behaviors, price elasticity, and market positions straddling both internal and external perspectives daily.
There is no certainty concerning an institution's student enrollment numbers for the fall given all the variables. Enrollment cannot be controlled any more than the coronavirus.
The COVID-19 variables on fall enrollment include the economic challenges; the unmooring of the admissions calendar; students and parents' concerns about travel and face-to-face exposure; your institution's targeted majors and current job trends; and your competitive institutional market.
International students' return is ominous at best. Plan accordingly.
Recognize that most student survey predictions are not very reliable.
Ask how certain your campus plans are for fall. Put yourself in students and parents shoes as you assess the uncertainties.
Rethink those archaic policies, procedures, and processes and streamline wherever you can to put students first and make your institution better for it.
Think creatively how facilities can supplement the recruitment of potential students (e.g., car/windshield tours on steroids).
Break down departmental silos to ensure enterprise-wide collaboration.
Address what the student experience is going to look like in the fall and ensure your levels of service will not suffer.
Assess stakeholder expectations for services. Educate and communicate the entire community.
Establish plans for monitoring health conditions to detect infection, its containment, and potential shutdown provisions.
Establish spaces for possible quarantine as part of your space planning mix.
Reinforce personal responsibility and accountability coupled with institutional responsibility in your plans.
Signage will be important to managing traffic patterns in public spaces. Be mindful of fire codes.
Manage both space and time to rethink capacity as the digital and physical worlds on campus/classroom instruction converge.
Learning science supports a better way of instruction than the simple lecture and test method. Blended and hybrid course delivery support smaller face-to-face cohorts for enhanced learning.
The blended learning environment is not expected to generate additional space nor save money; it will probably add costs in management time and technology.
Rethink the traditional silos impacting space management and utilization.
Faculty ramifications are probably deeper than most think or have considered.
Most students will accept lesser quality video output but not lower quality audio.
APPA's 2020 Thought Leaders Series monograph (forthcoming in July) identifies these students as more diverse, technically advanced, open to sharing information, focused on ROI, hold high expectations for quality delivery and a job upon graduation, and carry a larger mental health concern for institutions.
The future of 21st century education lies in thinking about instructional activities as a "BOTH/AND" engagement.
Jon Boeckenstedt said it best in a quote from Mark Twain's Life on the Mississippi: "I was gratified to be able to answer promptly, and I did. I said I didn't know." When it comes to fall enrollment and higher education's response to reopening, your guess is as good as mine! We have entered the wild, wild west. However, one thing remains clear. In such a market, victory belongs to nimble institutions that pivot quickly and boldly.
A Harvard Business Review article this past week, titled "How History's Great Leaders Managed Anxiety," noted that with this deadly pandemic ravaging people's lives, history can serve as a guide. Further referencing Nancy Koehn's book, Forged in Crisis, history's very best leaders – Lincoln, Roosevelt, Mandela, and Churchill – all understood how to provide stability, a steady hand, and hope, even when they themselves were uncertain about the road ahead. They were honest with their followers and found private outlets for their own anxieties. And, they celebrated small victories, even when the losses seemed large…with a combination of brutal honesty and credible hope.
I believe in each and every one of your abilities. And, I believe even more so in our joint capabilities. We can and we will get through this together.
E. Lander Medlin
APPA Executive Vice President