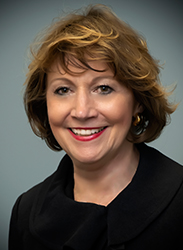 An occasional blogpost from Lander Medlin, APPA's Executive Vice President
---
If/Then…What Scenarios for Facilities' Future
May 11, 2020 — These days it's anything but business as usual. Make no mistake about it. The world has been besieged by this deadly pandemic – COVID-19. These are dark times with increasing stress on our healthcare system, the economy hurtling headfirst into a recession, and all of it tearing at the very fabric of our institutions as we stare down the barrel of a fall reopening…whatever that might mean.
Everyone wishes we were looking at the backside of this pandemic curve. Sadly, we are NOT! In fact, 44 states are in varying stages of reopening. NO state has met the Federal guidelines. Yet, all would agree we need aggressive testing, contact tracing, treatment, and of course, a vaccine. Complacency with respect to social/physical distancing is not an option.
The impact on the economy remains tumultuous. We have now crested 33.5M people (adding another 3.2M) who have applied for unemployment benefits. Although this eased from the peak numbers the last couple of weeks, it still marks the 7th week the coronavirus triggered record applications. Another distressing fact is the hunger crisis. In fact, more than 17% of young children lack sufficient food – a rate 3 times higher than during the worst of the Great Recession.
All that said, we were extremely pleased to have gathered another exceptional panel for our 8th Town Hall, each speaking to this changed world, the degree of uncertainty, and providing perspectives on its complexity.
Panelists:
Lynne Finn, University of Iowa
Duane Hickling, Hickling & Associates LLC
Mike Johnson, University of Arkansas
They emphasized that the road to reopening and recovery takes many planning paths. Mike Tyson once said, "Everyone has a plan until they get punched in the mouth." Higher Education, K-12, and Preparatory schools alike have just gotten punched in the mouth. And, certainly, facilities professionals are feeling the brute force of that punch.
For the "planners" of the world, it's a nightmare as plans seem to change every day…sometimes every hour. For the "doers" of the world, it's unimaginable with fits of starts and stops that seemingly have no meaning…and no end point. In a world fraught with uncertainty, that's the shaky ground we live on. So it is understandable that we have almost become paralyzed by exhaustion and anxiety, the likes of which we've never experienced, especially as we imagine and reimagine our future "plans" in a thousand different scenarios. Yet, plan we must. Having no plan is utterly unacceptable, even if it's ever-shifting.
Some highlights from the Town Hall follow:
Recognize we are facing a new enemy that is invisible, extremely difficult to manage, requires adaption, creativity, innovation, and talented people breaking the traditional bounds of thinking.
To open campuses effectively, we need a lot of data. Edwards Deming said, "Without data, you're just another individual with an opinion to make decisions on unsubstantiated opinions." Testing and tracing will be important as it creates needed data.
To create some semblance of a protected population, we may need to restrict some individual social behaviors that we might otherwise have found unreasonable and untenable.
Unfortunately, the world we live in right now doesn't have a specific danger zone. The world is the danger zone. So the notion of personal responsibility and protected population are inextricably linked.
Recognize this pandemic started out as a health crisis, rapidly turned into a financial crisis, and then becomes a liability crisis for our institutions.
Recognize that we are all feeling overwhelmed but grateful; exhausted but energized; isolated but connected as we work with incredible facilities professionals.
Understand that we are stuck in the middle of a perpetual problem planning cycle that goes against our grain as facilities professionals.
The questions we face and the conditions underlying those questions, are shifting under our feet with new information, new perspectives, and new interpretations, and often in the other direction.
Our organizations are driven by assessments NOT assertions, but that's all we have right now.
Pay very close attention to your "employees' resiliency banks." Watch the number of "starts and stops" to keep your employees' reserves high. We have to maintain and conserve staff energy levels for the long haul because it's going to be a long haul.
The decision tree is a web-like matrix of shifts and curves given the multiple variables that additionally impact human capacity, finance, culture, and governance. Everything is interrelated.
We must approach from a multi-dimensional perspective as this virus will exploit any "chink in our armor."
There is no silver bullet. No single answer. No one-size-fits-all solution.
Start simple, but be ready to change and adapt frequently. Establish metrics and triggers at every decision point. Constantly coordinate and communicate. Share your plans and stay connected.
Be at the table ready to support and lead, mitigate, and minimize these life-threatening risks.
We will most definitely expand multiple methods of delivery for the academic/student learning experience.
The decisions we make and the actions we take over the next 6-12 months will set the very course of higher education for a generation to come.
General Dwight D. Eisenhower said, "Planning is everything, but plans are nothing." Planning is the preparation to respond to the unknowable and we do have a lot of unknowns. In the context of "If/Then…What Scenarios," it is critical we recognize that hope is not a strategy and denial is not a plan. However, in the context of human needs, it's a whole different story.
My longtime friend, colleague and mentor, Doug Christensen (40 years' service at Brigham Young University Facilities Department) was dubbed as "a man of many firsts." This time of unprecedented, unsettling uncertainty is full of many firsts. As such, Gallup's global research team revealed four universal needs that leaders should heed first and foremost:
Hope (the excitement about a better future);
Trust (the belief that words will connect with actions);
Compassion (an understanding of others – of how they feel, what is on their mind, knowing you are listening); and,
Stability (employees want to know some things will be consistent, even in times of immense challenge and change).
Don't lose hope! Again, don't lose hope!! We will emerge from this dense "planning" fog. We all need hope, trust, compassion, and stability, NOW more than ever.
E. Lander Medlin
APPA Executive Vice President
---