APPA invites you to join its Continuous Learning Team special interest group to become involved in your area of interest at APPA!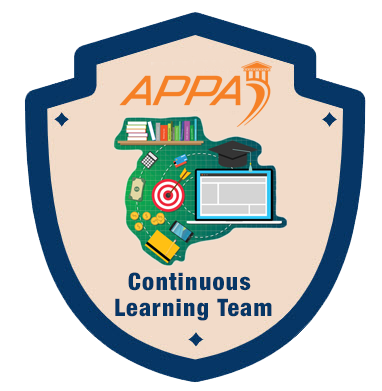 PURPOSE:
The Continuous Learning Team is seeking individuals with a passion for the professional development of self and team. At APPA, we embrace the value of an educated facilities management professional and look to partner with like-minded individuals in the journey to expand our reach benefiting one's self, their institution as well as the future of the facilities management profession.
CHARGE:
The Continuous Learning Group, in collaboration with staff, accesses the needs of each level of our organization from a development requirement. Efforts will be undertaking to curate content that expands the knowledge base through various elements of programming delivery systems.
APPOINTMENT PERIOD:
(1) Three Year Appointment
SUBMISSION PERIOD:
September 13, 2021 – September 24, 2021
POSITIONS AVAILABLE:
12 OPENINGS
Commitment and expectations:
TEAM EXPECTATIONS:
– The Continuous Learning Team will meet monthly for engaged discussion and brainstorming activities. Future in-person events will be established with a maximum of (2) two per year. (NOTE: Funding for in-person sessions will be supported by APPA.)
– The Continuous Learning Team will engage the regional/chapter membership to ensure all levels of the association development desires are responded to as is deemed feasible.
– The Continuous Learning Team will partner to educate the individual and institutional member on the benefit of APPA professional development offerings both for self and the campus community.
QUALIFICATIONS:
Interested individuals are asked to click here to complete a short submission for sharing your specific qualifications as well as areas of expertise.
QUESTIONS:
Should you have additional questions prior to your submission of interest, contact Suzanne Healy, director of professional development.