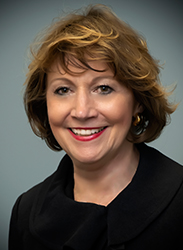 An occasional blogpost from Lander Medlin, APPA's Executive Vice President
---
Considering the Remote/Hybrid Workplace
February 22, 2021 — The disruption to Higher Education and the K-12/Preparatory Schools has been staggering. Yet all this chaos could lead to opportunities we had not envisioned or, at the very least, exploring ways to do business differently. Coming full circle from this pandemic year, the success of remote/hybrid learning has now morphed into a campus-wide discussion around the remote/hybrid workplace that is driving more questions. Yes, we've all experienced the massive shift toward the remote/hybrid workplace. But what does that mean for our educational community moving forward?
Recognize, this is not a simple problem to assess or resolve given the importance of balancing the productivity and performance of faculty and staff and corresponding space utilization. Let alone ensuring the sense of connectedness and community that is or can be missing in the Work from Home (WFH) environment.
We had the awesome opportunity to hear from four expert panelists who provided a variety of perspectives on the uncharted territory of the remote/hybrid workplace or Work from Home environment. They addressed space need, space use, space possibilities … you name it! They shared questions they've been exploring, pros and cons, pitfalls, the impact of isolation (both the positives and negatives), effects on team spirit, and workflows.
Panel of Experts
Joe Bilotta, President & CEO of JBA Incorporated
Emmanuel Daniel, Director of Digital Transformation for Smart Buildings & Campuses, Microsoft
Rick Huijbregts, Vice President for Strategy and Innovation, George Brown College, Canada
Paul Knowles, Director of Space Planning, University of Kentucky Campus Planning
Highlights from the Town Hall panel of experts' remarks follow:
Prior skeptics of Work from Home are rethinking the benefits long term. A hybrid model will most likely show savings spread across the portfolio. However, this will take time to identify, integrate, and consolidate vacated space to maximize the benefits.
Remote work possibilities are igniting many questions. Those highlighted were:
1) Will remote/hybrid work environments allow us to recapture and reassign significant amounts of space?
2) Who is going to make such decisions and set appropriate policies?
3) Who will be eligible to work remotely?
4) How often will one be able to work remotely?
5) Will decisions be made collectively between administration, managers, and employees?
6) Will there be a set of number days remote workers will be required to be on campus, OR will that be determined on a case-by-case basis between the employees and their managers?
7) What will the policy be on assigning space for hybrid workers?
8) Will a remote worker who comes to campus a few days a week still have an assigned, personal office?
9) How much space savings will we actually accrue?
10) Who will own that space?
11) What will the new office space look like?
12) How will these spaces help departments and teams encourage a sense of inclusion, thereby reducing feelings of isolation?
13) What will be the impact on mentoring and training?
14) What renovations and technology upgrades will be needed to support this new work model?
15) How will these upgrades be funded?
Understand there is an existing culture around space use that is deeply embedded in the traditions and values of your organization. Successful transition will require flexibility and trust. Ensure you are fostering a sense of inclusion not isolation.
As we modernize our campuses, we want to ensure we are creating a connected, accessible, sustainable, and secure campus. Explore why people should want or like to come back to the office and into our spaces. Envision what that looks like.
Microsoft's CEO, Satya Nadella, stated, "A digital technology should not be a substitute for human connection. Digital technology should help human connection when there are constraints of space and time." Therefore, we need space for collaboration and interaction to enhance opportunities for accidental, informal collisions where people come to gather, ideate, and transform the world.
Any assessment of space need and utilization requires a long view that is in alignment with and defined by your institution's campus vision and associated master plan. Space should be grounded in choice and flexibility. This transformation is not just about space, but a reimagination of how we teach and learn, deliver services, do research, think about credentials, as well as to introduce new business models for fully redefining our campus, our institution's identity. A tall, but necessary, task.
Peter Diamandis said, "Our modern educational system is an institution created in another time for the needs of a different world." Use this thought to challenge your thinking through four different lenses:
1) Students are hungry for togetherness. They come to college for the community we create and the spaces that foster experiential learning environments. Even online learning should be augmented by these collaborative, experiential spaces.
2) Faculty are delivering classes synchronously and asynchronously and also engaged in the additional heavy lift of establishing personal student interactions (coaching and mentoring) that requires continued human interaction and on-campus activities.
3) Services reimagined, delivered in three clicks or three interactions or less require a transformation of the "back-end" delivery system.
4) Employees are actively looking for the right hybrid work environment that includes home and campus shared office space. These all drive the need to become smarter about overall space use.
An institution's focus should not solely be about saving money, nor necessarily cutting space, but rather using one's space very differently. This approach will provide many the opportunity to convert existing space to high-end, high quality, collaborative "collision" spaces to deliver exceptional, transformative experiences and further enhance relationships with students.
An emerging theme: Campuses will likely have fewer people on campus; they will be highly efficient and automated; space utilization will be reimagined to be more experiential, more alive; promoting health and well-being; blurring physical boundaries with industry and its surrounding community(s); making it way more collaborative in nature.
Understand how WFH is affecting people in terms of their productivity. Determine the impact (positive and negative) of online meetings. Figure in the impact on the physical ecosystem and the associated physical devices on the ecosystems in your spaces. Ensure you know the impact on IT and security. And, finally, assess the societal impacts from WFH.
The average workday has gotten longer as people try to get the same total amount of work done while being less productive. Frankly, at this point in time, people are emotionally exhausted and having trouble focusing on their work. This leads to reduced productivity, less satisfaction with their work setup, increased procrastination, less real immersion in or connection with their work, and ultimately negatively impacting their health and well-being.
Although people expressed a real need for focus time, they miss being "disturbed" from the informal, drop-in conversations, random chats, and hallway connections. This increases the importance of and need for physical space and the relationships that space creates. We're now recognizing our online meetings have been more focused on specific tasks and/or outcomes and less about allowing for those informal, casual conversations. The entire concept of "office" has shifted and evolved from just a space for people to come and work. Space is an enabler of productivity and performance, of innovation and outcomes. Connection becomes an outcome of the technology, people, and their interactions individually and collectively.
Innovation cannot be measured; it has to be stirred. Physical space, bringing people together for that shared experience, is absolutely critical to boosting innovation. Hence, the focus on workplace/office experiences you cannot get at home. The design of those spaces drive innovation through active engagement in those very spaces. This requires data and other infrastructure insights to personalize the services needed to enhance those experiences. A key part of design is to create an environment where everyone is welcomed, engaged, and empowered to collaborate in a way that brings their best performance and highest level of productivity.
Although prospective students are initially visiting our campuses with their fingertips using technology right now, the deal is signed when they see a campus and understand what it is like from a physical sense. That's the importance of "sense of place" on campus.
The pandemic forced campuses to experience what it's like to work remotely. It's not a new phenomenon. It's just new to the education industry sector. Therefore, it's going to require a culture shift. So how do we plan for that culture? Flexibility will be more important than ever. The challenge is how we plan and manage our facilities. Consider our future not as a light switch but a dimmer switch that will "brighten" or change as we learn what is best for the institution.
Embracing remote work models may allow us to expand talent acquisition well beyond our local communities, even globally.
An increase in remote work also impacts the parking system and the economics of the local surrounding communities.
Consider asset performance in ways that allow us to grow and add more customized services to employees and users of our spaces.
With a more flexible model, institutions may find they can indeed raze some buildings that are in poor condition, with high deferred renewal problems, and extensive operational costs, and utilize those savings to provide different types of space as people return to campus.
This is a time for facilities professionals to think aggressively regarding the types of facilities needed with that flexibility in mind. It's a strategic approach looking long term while working together to determine new business models, assess individual preferences, and align with the entire community.
Facilities professionals should proactively prepare options and be able to react as the university starts to shift. This will change how we plan for our space and facilities and potentially shift space back to the academic community for repurposing (e.g., collaborative spaces), thereby reducing the quantity of space and improving its quality.
The connection of facilities with the academic departments has been enhanced at many institutions. This allows us to work together to figure out what is in the best interest of the institution.
Thinking differently about spaces allows us to actually program with intention for those casual, informal collisions. To do so effectively will require us to create more sophisticated models depicting what happens typically in a 40-hour work week on a person, position, and/or task basis, then translate those into space need. Building contingencies or "grace" periods into our planning provides flexibility in the system. This will allow us to rightsize and align our facilities with how we operate.
A way to plan for a multigenerational workforce is to analyze experiences based on behaviors. It is also important to consider space from a contextual standpoint, especially given personal living circumstances and its impact on performance of the work.
The opportunity to reimagine space must extend beyond surveying existing stakeholders to benchmarking other industries for their experiences and lessons learned. Different examples will inform and influence our thinking. We can help ourselves greatly by providing existing stakeholders with the possibilities and options, so as to empower them even more.
Ensure stakeholders are aware of the array of possibilities as we redefine campus needs well into the future. However, recognize the limitations from surveying existing stakeholders "wants and desires" and err on the side of truly assessing need based on actual use and the desired state or vision for space use.
Develop metrics and models to capture WFH effectiveness, and document productivity goals and other performance factors. Monitor space utilization by increasing use of scheduling software to provide valuable insights. Factor in a contingency period of use even for remote and hybrid work styles as those folks will quite possibly need some space on campus to accommodate these new work models.
Facilities professionals can help create new tools and planning metrics or templates along with space and financial impacts as we change the way we do business. We can play a big role by showing options, possibilities and opening minds to the space ramifications based on operational plans and models. Silos are down and people are looking for advice and guidance, so we need to be both assertive and collaborative.
The truth is many concepts on the future of work, Work from Home, and the workplace of the future have already been tested in other industry sectors. We need to do a better job of borrowing and learning from others.
The discussion isn't only about the physical borders of campus anymore as people can now learn and work from anywhere. So, what does the physical, digital campus comprise? Think security, access, and connectivity with a focus on choice and flexibility. We don't want to be too fixed with our physical assets; see how people behave; then adapt and adjust as people's behavior evolves, rather than being stuck with bricks and mortar that cannot be changed. This will prepare us to be more agile, more responsive to changes in future needs.
The efficiencies and effectiveness of space must be balanced in terms of user engagement, their health and well-being, and the outcomes they achieve.
Ending with a message of hope: As we continue with Black History Month, I am reminded of Dr. Martin Luther King Jr.'s 1963 message, I Have a Dream. His example affirms that individuals can make a difference. Furthermore, Dr. King's legacy is not one of despair; it is a living hope that, working together we can accomplish much, even in the face of discouragement and setback. Let's accept this mantle even more so in 2021 with more vigor and commitment.
E. Lander Medlin
APPA Executive Vice President
---
---