With many ways of reaching our highly qualified educational facilities professionals, APPA's vast advertising options are a cost-effective way to introduce them to your products and services.
---

Facilities Manager – bimonthly digital magazine
Facilities Manager is published and distributed exclusively as a digital online publication, directly reaching the top educational facilities leadership decision-makers and giving your company visibility, reach, and exposure.
Click here for the magazine Media Kit.
---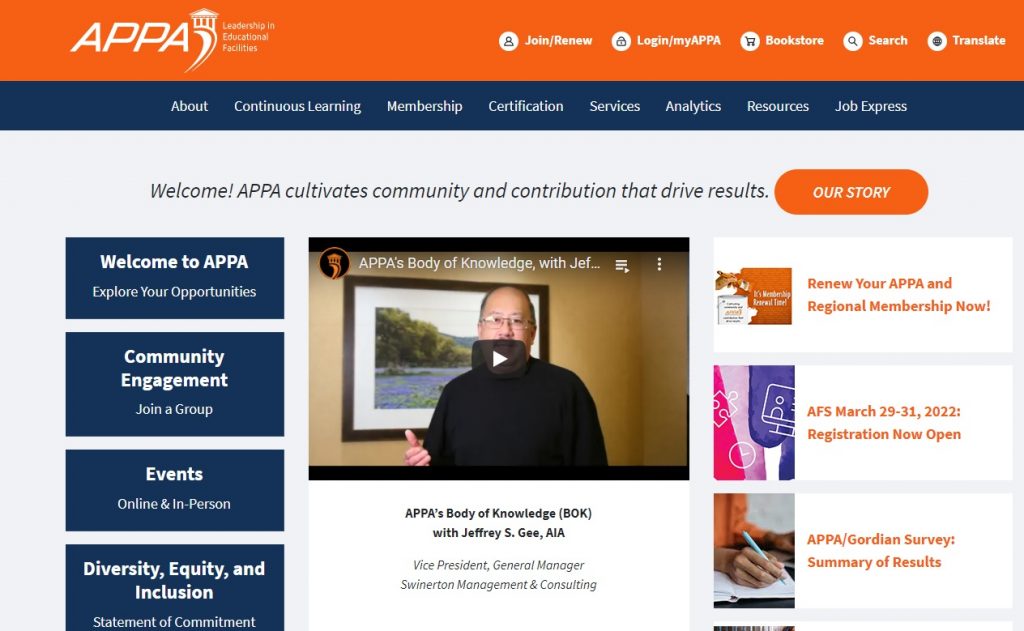 APPA Website – www.appa.org
By advertising on 80% of the website's interior pages, you will reach those navigating the website 24/7, particularly managers and decision-makers in educational facilities.
Click here for the website Media Kit
---

Inside APPA – biweekly digital newsletter
This customizable biweekly e-newsletter serves as the year-round resource for more than 14,000 educational facilities professionals looking to stay up-to-date with the latest information within their industry. It also includes news and information on regional and international APPA events, programs, publications, and facilities management industry updates. Its vast news coverage, rich content, and ease of use make it a prime and trustworthy resource for educational facilities managers throughout North America and worldwide.
Click here for the newsletter Media Kit
---

Job Express Bulletin – weekly bulletin
APPA's Job Express Bulletin is e-mailed directly to facilities professionals working in campus positions related to senior facilities administration, design and construction, facilities planning and management, business operations, custodial and landscaping, energy management and utilities, campus sustainability, maintenance trades, and much more.
In today's quickly evolving job market, your ad will be seen by thousands of facilities professionals who receive the Job Express Bulletin every week.
Click here for the Job Express Media Kit
---
Interested in Advertising with APPA?
For more advertising information or to place an ad with APPA, please email Christina Womack at ARP or call her at 214-396-6581.
---