APPA Business Partner Whitepaper Series
---

---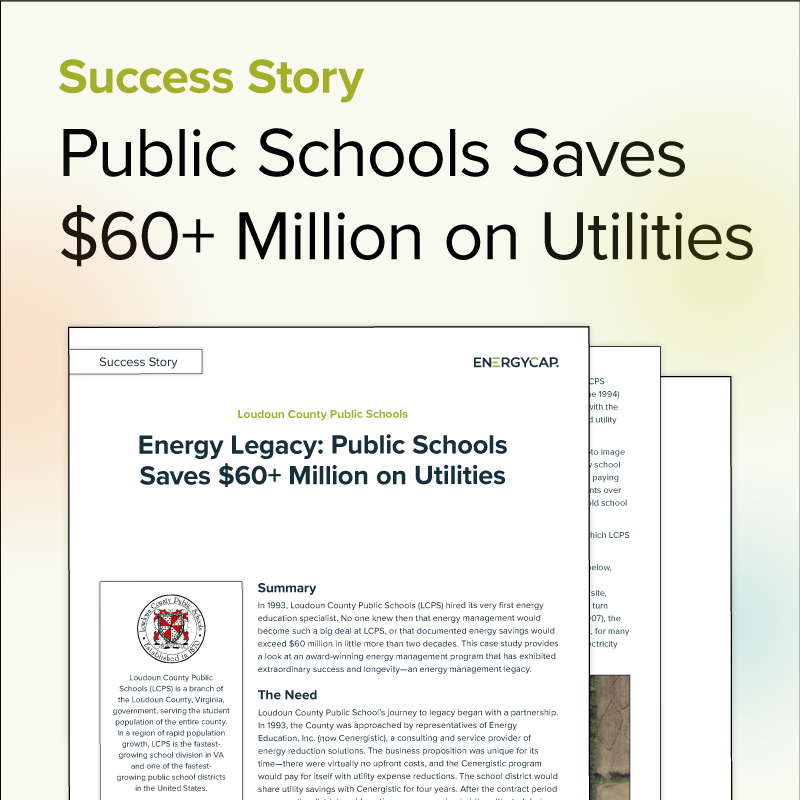 Download the energy legacy success story to learn how Loudoun County Public Schools (LCPS) saved over $64 million in expected utility costs—equivalent to hiring over 1,300 first year teachers or educating over 5,200 pupils for a year. LCPS is a branch of the Loudoun County, Virginia, government, serving the student population of the entire county. This case study provides a look at an award-winning energy management program that has exhibited extraordinary success and longevity—an energy management legacy.
---
About EnergyCAP
EnergyCAP is the only Energy & Sustainability ERP that empowers ambitious Energy & Sustainability leaders with full control and understanding of all energy data points to reduce their carbon footprint and drive savings. You have tons of energy data points that could provide actionable and impactful insights. But when you're drowning in bills, spreadsheets, and data it can feel impossible to execute the programs you need to build a more sustainable world. EnergyCAP helps you make sense of your data and drives cost-effective and responsible utilization of finite resources. Empowered with actionable data, we help you exceed your sustainability goals and break out of energy data jail. Visit Energycap.com to learn more.
Posted September 20, 2022
---
Read more from the APPA Business Partner Whitepaper Series.
Already an APPA Business Partner member? Publish your whitepaper with us! Learn how.