Members Highlight Networking & Professional Development as Key Benefits of APPA Membership
Summary by E. Lander Medlin, APPA Executive Vice President
First and foremost, many thanks to those members who found time to respond to APPA's membership survey this past March. Your feedback was immensely valuable and will serve to guide detailed planning as we build out critical elements of APPA's visionary strategic framework of Preparing for Every Future by creating a future of continuous learning. You made it clear that our brand strengths of community and professional development are more important than ever.
APPA's visionary strategic framework is sharpening our focus, strengthening our core, and building organizational capacity to provide the best value for our institutions and its individuals toward making our campuses a better place. This visionary strategic framework had us well-positioned pre-COVID. Now, the work is focused on further building out the educational content you need, providing it across a multitude of delivery platforms, using the best technology infrastructure, and increasingly engaging in peer-to-peer collaboration.
The coronavirus not only accelerated the need but further revealed the importance of redefining how APPA can better serve and support you, our members, in this new era. This reinvention aligns beautifully with the results from our latest membership survey. You have given us much to think about and consider well into the future. To that end, APPA is heightening its focus and plans around the accelerations and exponential changes transforming the way we view and conduct our work within the profession and at the association. Let's take a look at your feedback.
Survey Stats and Findings
The membership survey was conducted internally, with an invitation to participate distributed by email and link to the survey. The email invitation was sent to over 10,000 people consisting of all primary institutional representatives and other facilities professionals at member institutions. We were pleased to receive a 13% rate of response from this APPA member institution population pool, totaling 1,313 individuals. Responses were anonymous. Some demographic information of note: 80% of respondents were from 4-year institutions (of which 50% were research, 22% comprehensive/doctoral, and 75% publics), and 8.6% from community colleges; 31% were senior leaders; 40% age 55-64; and, 48% reported coming to educational facilities from the private sector.
Members collectively said what they value most is networking with this rich and diverse community of educational facilities professionals. You also told us you highly value professional development in all its forms (educational training, information and best practices, webinars and town halls, peer-to-peer learning). These two areas – cultivating community and enhancing professional development opportunities – represent the hallmarks of APPA's brand.
Correspondingly, we were extremely pleased that nearly 90% of members across all job roles said the value they receive from APPA in terms of member services and benefits versus the cost of dues meets or exceeds their expectations. Furthermore, 93% of our Primary Representatives would likely recommend APPA to a colleague or a friend. That's a real testament to the professional networking and relationship-building APPA members' experience. That said, remember that once an institution pays its membership dues, ALL individuals at that institution are considered members of APPA. This was a huge shift – shall I say gift – we made in 2014 and it continues to be misunderstood. Please take advantage of your institution's membership!
The Value of the APPA Connection
So what do you value in more specific terms? Several questions and narrative responses addressed the value of and participation in APPA's programs. Clearly, professional development and relationship-building opportunities across ALL of APPA, its regions, and chapters were key among respondents. Information on current industry issues, emerging trends, and current or best practices are also highly prized. APPA's programs were ranked valuable or extremely valuable in the high 80th percentile. However, the issue of participation/use, or shall I say greater engagement, in APPA's programs and services is one we will explore further and seek to improve over time. Let's break these down a bit further by the words most often used in your narrative responses.
You told us educational facilities reflected the importance of staying true to our niche market of "education," reflective of the differences in community and culture that come specifically with the education marketplace.
Secondly, the word information covered a lot of ground, which was reflected in the positive comments you made about the body of work APPA provides the education community such as: BOK (the Body of Knowledge); Operational Guidelines for the Maintenance Trades, Custodial, and Grounds Management; Facilities Manager magazine and the Inside APPA newsletter; along with FPI (Facilities Performance Indicators), and the invaluable content received across a multitude of Professional Development programs. These are all highly valued professional offerings developed by and for the educational facilities professionals community.
In addition, the word information was many times accompanied by the word sharing. So Information Sharing is considered a huge plus for APPA members. In fact, it's notation varied by either "industry/facilities specific information-sharing" to "peer-sharing" or through "comparison/data information-sharing," etc. This reinforces the power of our sharing community!
Networking and Professional Development programs were considered HUGE value with both landing in the 86th percentile. This again reinforces both of APPA's special differentiators: community and professional development (in all its forms).
Indeed, what we found when we dug even deeper into the seven long form narrative responses are reflected in this word cloud graphic.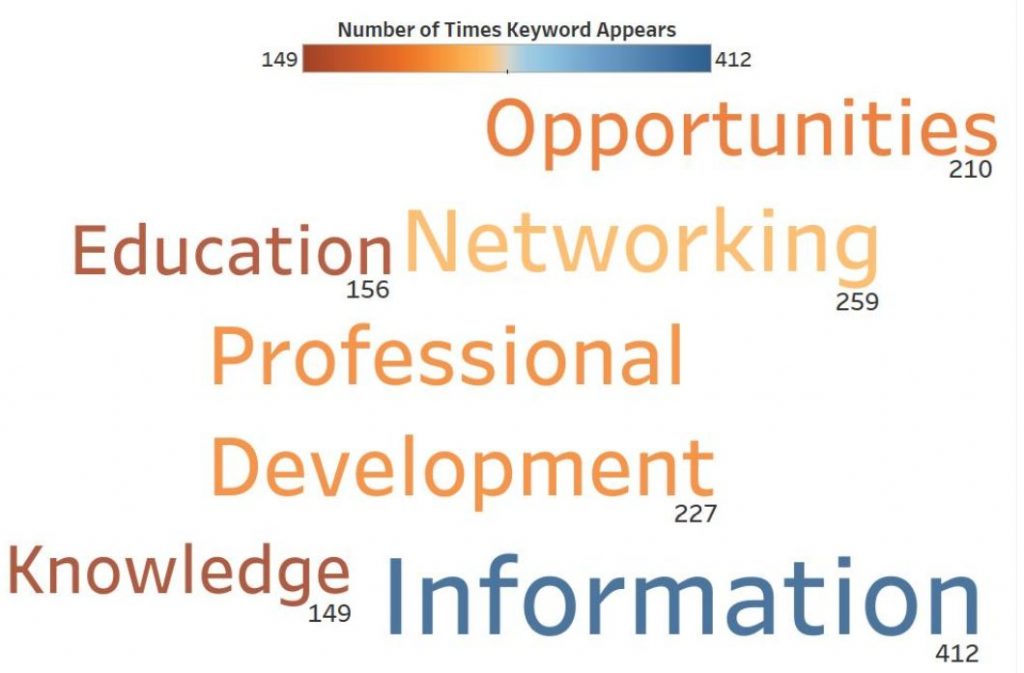 Their frequency existed across all levels of the organization (International APPA, Regions, and Chapters). Those six key words or themes were: Networking, Professional Development, Education, Information, Knowledge, and Opportunity. I've already expanded upon the first four words or themes. However, the meaning of the last two words are not immediately obvious.
Let's look at a few comments made about the word knowledge. The biggest takeaways around the word knowledge were: "knowledge sharing; timely knowledge; breadth and depth of APPA knowledge and resources; facilities specific/industry knowledge; trustworthy and timely knowledge; peer-to-peer knowledge; and again, the BOK."
Lastly was the word opportunity. The biggest takeaways around the word opportunity were: "APPA presents networking opportunities at the local and international level for volunteer leadership; APPA provides opportunities for training and benchmarking; APPA provides opportunities for sharing information and accessing other facilities management professionals through networking."
What strikes me overall is how integrated and interdependent these six words or themes are to one another and their direct connection to what makes this the special community we share.
You also identified the top challenges and issues you face or need as:
Space (remote/hybrid learning and workplace needs; the "right" space/better utilization; programmatic requirements, repurposing);
Aging infrastructure, deferred renewal/backlog, and the need for infrastructure master planning;
Diminishing financial and budgetary resources;
HVAC systems (retrofits, upgrades, design, etc.) with a focus on safe/"healthy" buildings;
Cleaning methodologies (post-pandemic) and possibilities for UV sanitizing;
Energy and utilities grid issues (specifically a desire for information sharing and best practices);
Sustainability;
Diversity, equity, and inclusion resources; and
Workforce skills gap and recruitment of talent needs.
We recognize these issues and challenges existed prior to the pandemic but they were further revealed and accelerated by COVID-19 realities. Yet, many of these issues will require continued reinvestment in our staffs' professional development. That's where APPA comes into play with a wide range of subject matter experts and talented faculty to guide and develop your career training efforts. The return on investment in terms of productivity and performance is unsurpassed.
You even told us, "How can APPA add greater value?" For example, your narrative responses said that it will be important to pivot the Town Halls to targeted, more "irregular" deliveries away from being COVID-specific to emerging, hot topics. We've done just that! And, when it comes to training, you want more webinars on technical topics, and even some mini "Lunch & Learns" across the regions. This will help us leverage more collaborative engagement with our Business Partner members and other organization and association entities. We will also focus on developing more Professional Development programming content on these challenges and issues.
Some noteworthy opportunities for us to address moving forward are:
Engage in personalized outreach so members know their benefits and how to gain access;
Evaluate all content areas of professional development and training to include these important technical content areas and ensure greater alignment with your needs;
Engage with Canadian members more fully to determine their content needs more specifically;
Leverage the APPA365 app and the Online Community for greater utilization by the membership;
Evaluate repacking FPI output to provide interesting facts and figures, patterns, and trends; and,
Focus on greater alignment between programs and services you highly value and their utilization and engagement by the membership.
We believe this is the absolute best time to be an educational facilities professional. Facilities relevance is at an all-time high and facilities professionals have emerged with greater influence. That makes relationships more important than ever. What better community of professionals than APPA to develop, foster, grow, and cultivate those all-important relationships. We are pleased to be part of this fantastic community. We are grateful for the opportunity to serve you.
Again, our sincerest thanks for your willingness to provide such important and timely feedback. We are excited about the prospects for the future and continuing to build out our visionary strategic framework together. Make APPA your "go-to resource" as you prepare for every future!
[June 8, 2021]