APPA invites you to join its Communication Strategies Team special interest group to become involved in your area of interest at APPA!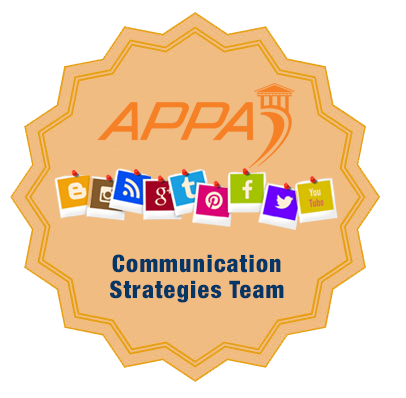 PURPOSE:
To ensure APPA's membership is appropriately informed of programs, services, and engagement opportunities via various communication and media marketing methods. Can involve APPA, as well as its chapters and regions.
CHARGE(S):
As needed, engage in strategic and tactical communication strategies and prepare actionable approaches to be implemented by APPA staff.
APPOINTMENT PERIOD:
As needed.
SUBMISSION PERIOD:
September 13, 2021 – September 24, 2021
POSITIONS AVAILABLE:
12 OPENINGS
Commitment and expectations: One monthly virtual meeting, as well as participating on ad-hoc campaigns and special events/projects as needed. Possible travel for one face-to-face meeting per year.
QUALIFICATIONS:
Experience in member communications; demonstrated proficiency with communication strategies and use of various media platforms and methods of engagement.

Are you ready to join?
Send an email to anita@appa.org by September 24, 2021 letting us know why you are interested in joining the group, and a brief description on your background and qualifications as noted above.